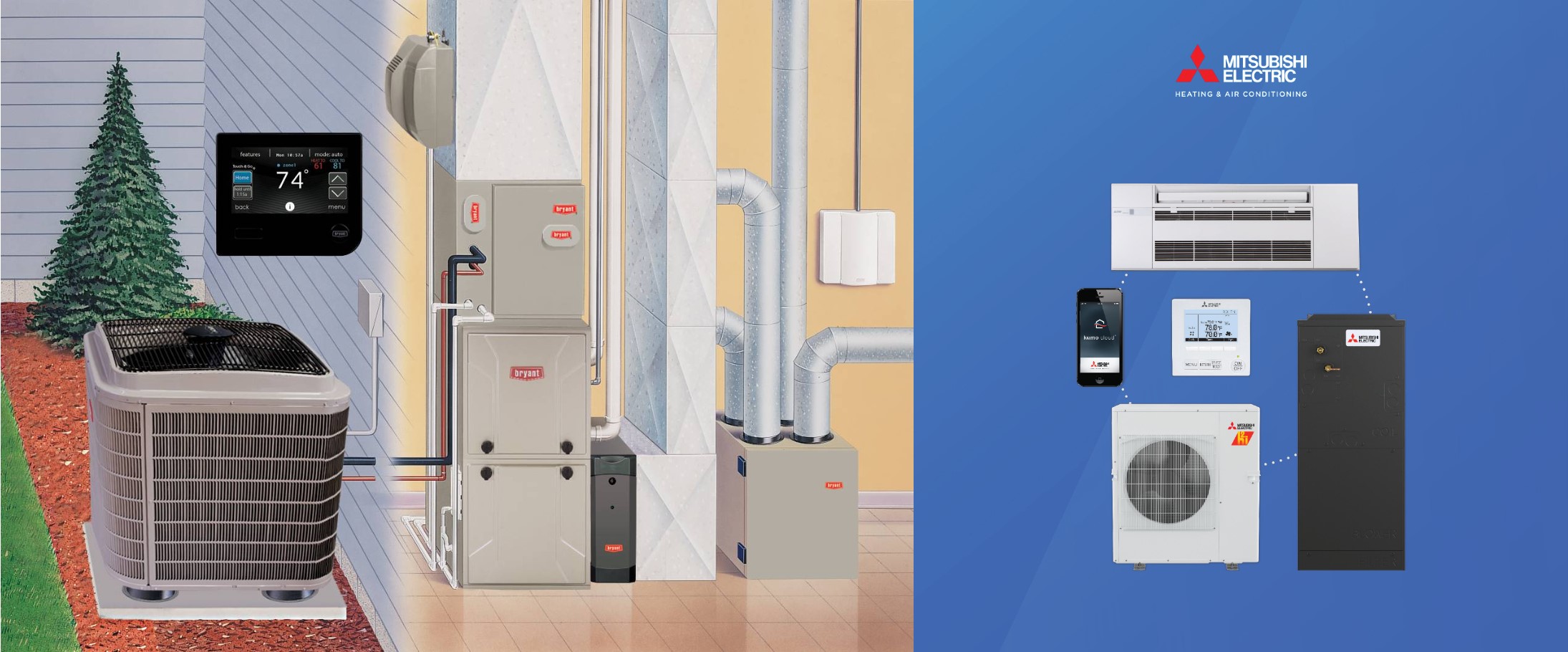 Retrofit & Replacement Services
Save on energy and enjoy the comfort you deserve
Speedy installation and flawless execution are both hallmarks of the Shafer brand. From ductless heat pumps, and gas furnaces, to high-tech, dual fuel, communicating equipment, we do it all and we do it all with excellence. Through the years our clients have come to demand nothing less than the best from Shafer, and we are proud to deliver.
Why Bryant, why Mitsubishi, and why Shafer?
"The Shafer Way" means quality, which is why we've been partnered with Bryant and Mitsubishi for decades. The HVAC industry has many, many manufacturers with an ocean of options but we continue to choose Bryant and Mitsubishi for five critical reasons:
1. Legacy – Bryant is the original name in residential comfort and Mitsubishi is the premier name in mini-split systems. For well over 100 years, discerning homeowners have trusted Bryant HVAC systems to keep their families toasty warm in winter and breezy cool during the hottest summer months.

2. Quality – No one touches Bryant and Mitsubishi when it comes to longevity and durability. Why are we so confident in the efficacy and resilience of our systems? Because we've installed thousands of units from these manufacturers, and we've seen them work. Aside from our own positive experience with our excellent partners, both brands back their equipment with extended warranties ranging from 5-10 years, depending on the system you choose.
3. Integrity – Shared values are the foundation of any successful relationship, whether in business or in life. By design, there is zero daylight between Shafer and our manufacturers when it comes to our shared commitment to ensuring client satisfaction. We never claim perfection, but rest assured, no matter what unforeseen complications may arise, Shafer stands behind our work and we never consider a job done until you are thoroughly satisfied. 
4. Innovation – Consistently on the bleeding edge of technological innovation, our manufacturers' tireless research and development means you can experience the joy that comes with total control over your indoor comfort. Draftiness and inconsistent temperatures around your home are things of the past when you trust Shafer with your project.
5. Value – Quality never comes cheap and the old adage, you get what you pay for, has never been truer than in today's economy. Investing in a Shafer installed HVAC system from Mitsubishi or Bryant, is a high-value proposition that will pay you dividends for years to come.
With superior energy efficiency, unparalleled durability, competitive pricing, and top-tier financing through our partnership with Ally Bank, the real question isn't why Bryant, why Mitsubishi, or why Shafer, but rather, why settle for less when you don't have to?
Ready for a comfort upgrade?
 You and your family deserve the best comfort system for your home, and that's what we're here to provide. We have a wide variety of options so you can find the perfect system for your needs and budget. Plus, our team of experts will install it flawlessly so you can enjoy years of reliable service.
The tradition Charles Bryant started more than a century ago is about more than heating and cooling. It's about earning the trust of customers across the country by taking care of their indoor comfort needs.
Our family of hard-working products includes a wide range from furnaces to air conditioners and everything in between. And those products are unmatched when it comes to quality, durability, and reliability. In fact, from our early gas-fired boilers to today's home comfort technology, our standards have remained the same: dependable, hard-working comfort.
Value for homeowners has always been a driving force behind Bryant designs and technology. From the development of the 80% efficiency boiler to adapting to the ever-changing market by offering smart technology and more, Bryant has a history of being committed to providing a wide range of products that meet homeowner needs and exceed expectations.
For over a century, Bryant has been developing and delivering reliable products, 100% run-tested before leaving the factory, to be installed right, by a qualified, experienced Bryant contractor who is dedicated to customer satisfaction.
Since 1904, we have been building on the foundation of quality and reliability that Charles Bryant founded Bryant Heating & Cooling on. We strive to go above and beyond, both in the lab and in the home, to bring you the customized home comfort solutions you deserve. To us, it's not just about heating and cooling, but providing products you can rely on and service you can trust.
Bryant. Whatever It Takes®.
Heating and cooling systems produce warm or cool air in one central area and distribute it throughout your home. When you choose a Bryant system, regardless of what type you choose, you'll receive a reliable, 100% run-tested product. 
There are many types of systems that work as central systems, from Traditional Split Systems (having both indoor and outdoor components) to Packaged Product Systems (having one combined outdoor component for heating and cooling). Packaged products include dual fuel systems and all electric packaged options.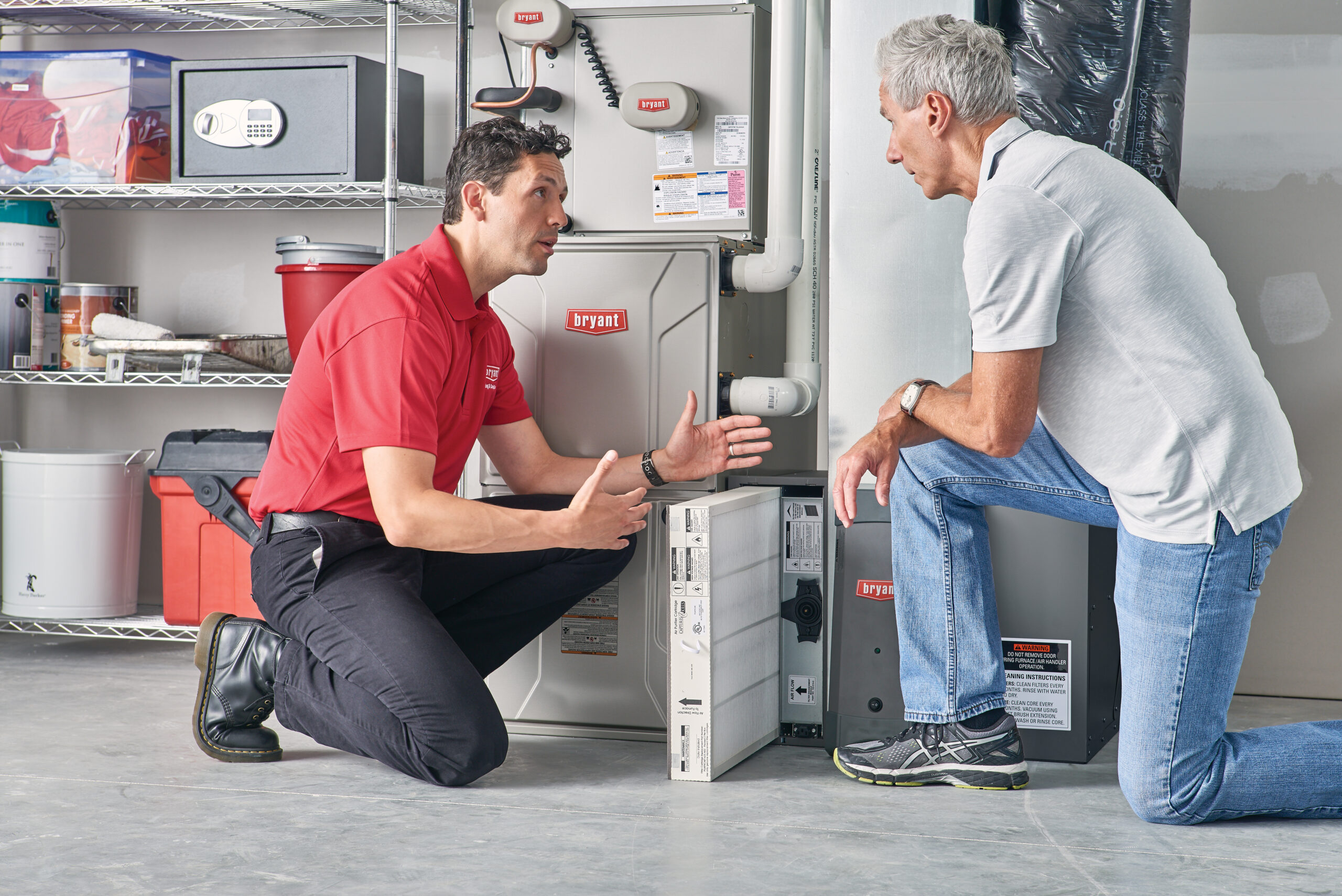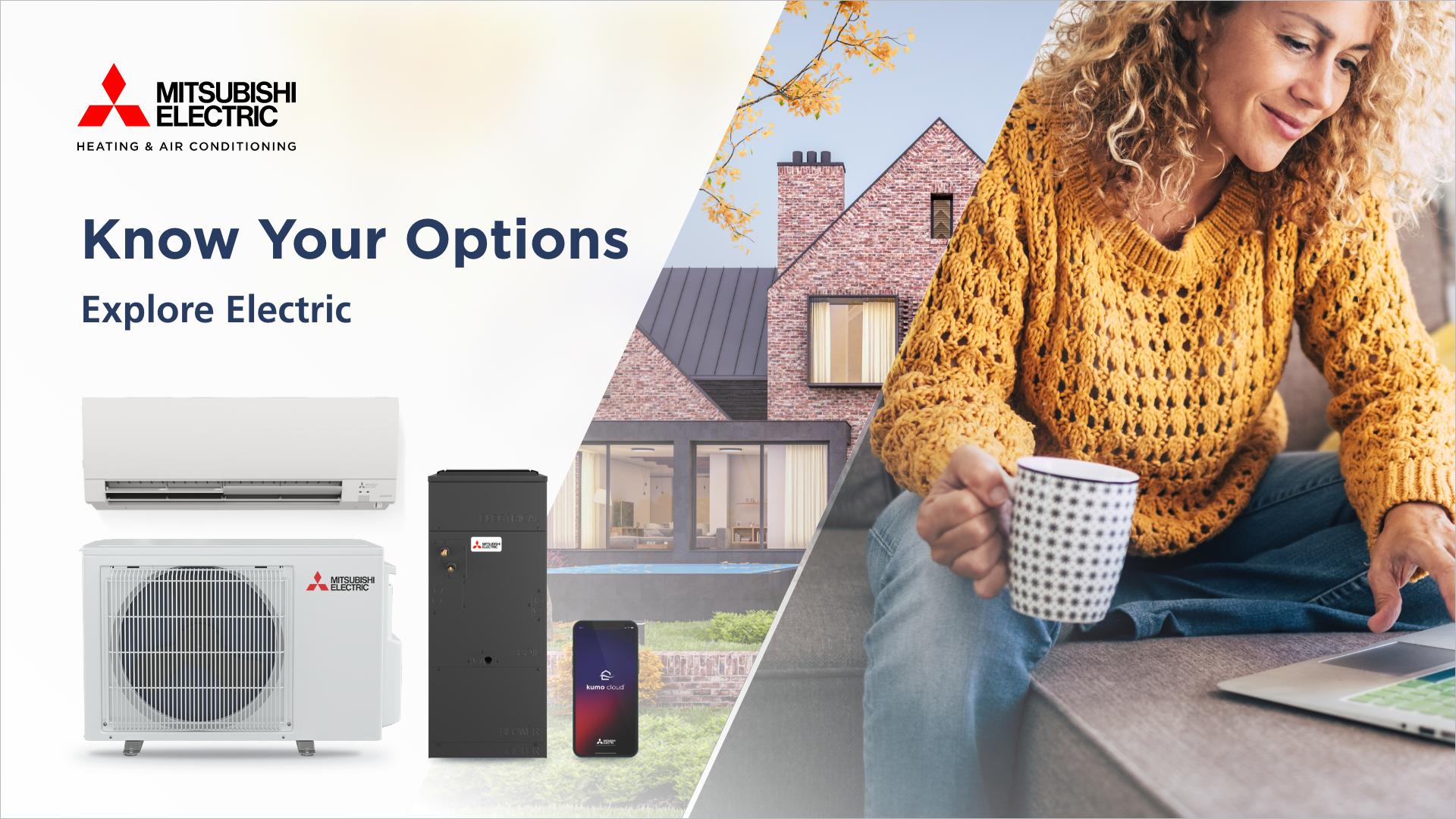 Mitsubishi Mini-Split Systems
When searching online for an efficient heating and air-conditioning system for your home, you've likely seen "mini-split" in the results. Mini-splits are super energy-efficient, reliable and eco-friendly solutions to improve your home's comfort with very low utility costs and zero emissions. Because you have single-zone or multi-zone options, they're great for remodeling individual rooms or building a new home. 
But how do they operate and what makes them such a popular choice among today's homeowners? 
 As the name implies, these air-conditioning or heat pump systems are split into two functional components: an outdoor condenser/compressor unit and indoor air-handling unit. These components are smaller (or "mini") compared to conventional systems. The third component is the system controller which can either be a hand-held remote or wall-mounted style thermostat. There's also an app for control of your temperature from any smart device, anywhere.
The modularity of mini-splits and multi-splits allows you to custom design a system to match the specific needs of your home. To start, simply consider all the different comfort zones you want to create. A "zone" can be a certain room or combination of rooms, and you can divide your home into as many zones as you'd like. For example, you may want separate control of the master suite as one zone, while treating a family room connected to the kitchen together as another zone. 
Ductless indoor units can be easily designed to fit into any room, and you have multiple styles (and colors) to choose from including wall-, floor-, and ceiling-mounted. Our ducted air handlers give you more design options especially with larger zones.
You're making a smart decision to replace or supplement your old central furnace and air-conditioning system with a Mitsubishi Electric Zoned Comfort Solution® heat pump. Whether it's with a mini-split or multi-split system creating smaller comfort zones, or a single ducted system, you're still getting the best efficiency and performance possible.
Mitsubishi Electric Trane HVAC US (METUS) is a leading provider of ductless and VRF (variable refrigerant flow) systems in the United States and Latin America. 
With unmatched energy efficiency, performance and control, it's never been easier to make any home, any building, anywhere more comfortable and energy efficient. Plus our all-electric systems help mitigate climate change by lowering your carbon footprint.